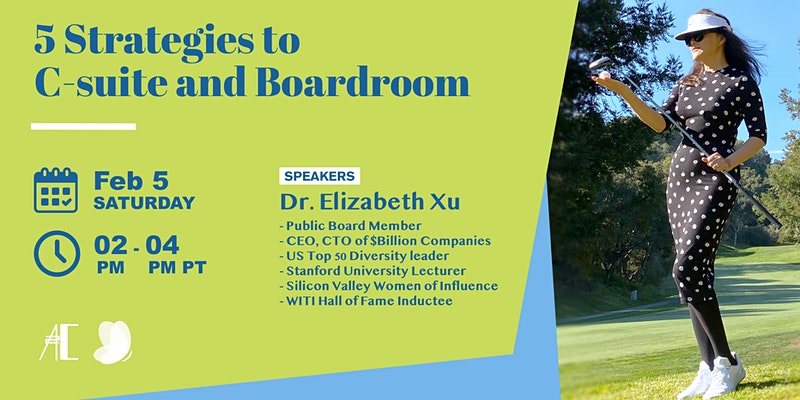 00

Days

00

Hours

00

Minutes

00

Seconds
Five Strategies to C-suites and Boardrooms
If you have the burning desire to reach your fullest potential, make it to the C-suite sooner, this seminar is for you.
Top Five Reasons to Attend
✅ Elevate your mindset from a top performer to a C-level executive
✅ Ask any career questions, have interactive discussions with Pat and Dr. Liz, 10 lucky people will be selected to have 30 min 1-1 with Dr. Liz or Pat
✅ Learn the proven 5 Strategy to get into C-suites and Boardroom
✅ Network with rockstars learn their promotion acceleration experience
✅ Catalyze your burning desire to excel and rise to the top in the workplace
Dr. Elizabeth Xu and her mentor of 30 years Ms. Pat Zimmerman will share their proven 5 career strategies to get into C-suite and Boardroom.
They have coached thousands of people since 2005 and many of them got into C-suite and Boardrooms.
You can sign up the bonus 1-1 with Dr. Liz or Pat, we can help you with your rockstar mom career strategy. Please prepare
Link to your linkedin Profile
Your Resume
1-2 messages you got from this seminar
Why do you want to talk to Dr. Liz or Pat?
We will notify you within 7 days if you are one of ten lucky people who receive this bonus 1-1 opportunity
Agenda:
Dr. Liz and Pat's career journey
The hidden benefits from C-suites and Boardrooms
5 Proven Strategies to accelerate your path to C-suites
Live and Interactive Q&A
Bios
Dr. Liz, CEO, A2C Leadership Group, Former Group CTO at two muliti-billion dollar companies and Nasdaq board member
After she graduated,
Within 2 years, Dr. Liz was promoted to first line manager at IBM
Within 10 years, Became C-level executive at a public company
Within 20 years, became CTO of two multi-$billion companies
Within 23 years, became public company board member
Taught leadership classes at Stanford University (2011-2016)
Co-authorized "Myths of the Promotion"
Pat Zimmerman, Dr. Liz's mentor for 31 years
Retired from AT&T at age 43 from a management position
Coached many successful executives just like Dr. Liz
Became Presidtent and Chairman of University Nevada Sr. College
Co-teach with Dr. Liz at Stanford (2011-2016)
Co-authored Stanford textbook, "Myths of the Promotion, 10 steps to a scucessful career" You can bug it from Amazon
Detailed Bio:
Elizabeth is a public company board member and the CEO of A2C Academy. She has served as two CTO positions of billion-dollar revenue companies: CP Group and BMC Software. She became a C-level executive in 2005 at a public company. She provides coaching in Leadership, Digital Transformation, AI, and cloud. She is also an investor for early-stage companies.
Dr. Elizabeth Xu has taught at Stanford University for 6 years about leadership, and currently is a guest lecturer at Stanford University Teaching Digital Transformation at the Department of Engineering Management Science. She is also the advisor for MIT Innovation Initiatives.
Elizabeth earned a Ph.D. and two Master's Degrees. She is a Harvard certified board member and attended the Stanford Executive Program.
Elizabeth received the TOP 50 Diversity Leader in the United States in 2020, the Presidential Award in 2019, the Global Leadership Award in 2018, the WITI Hall of Fame Award in 2017, and Women of Influence in Silicon Valley in 2013. She also received 10+ other prestigious awards. She is a trailblazer, leading a creative and proven path to the top.
Elizabeth lives by the credo of the four "L"s
Live to my fullest potential.
Love the people around me and enable them to reach their fullest potential.
Learn continuously.
Leave a legacy.
---
Details
Start Date & Time

05 Feb 2022 02:00 pm

End Date & Time

05 Feb 2022 04:00 pm

Location

Zoom

Category
---
Organizar
---
---
Share this